DO MORE WITH
VinMotion® Pro
VinMotion®️ Pro offers next-level inventory management resources for dealers who want to go the extra mile. The upgraded plan includes all the same great features plus our latest software enhancement, VinVelocity™.
Key Features & Capabilities
Polling (New and/or Used Vehicles)
Syndication
Galves Market Pricing
AdWriter
Bookout Sheets
Full Pricing
Competitive Set & Recommended Price
VinVelocity™
Reconditioning
JD Power (1 mobile seat)
StoryBuilder™
Mobile-Friendly App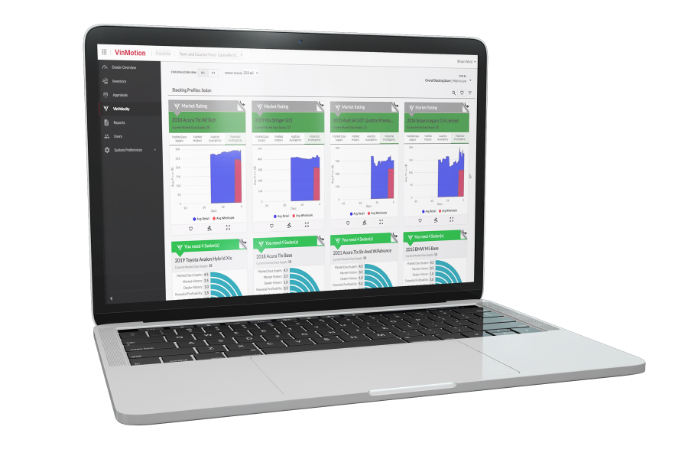 Make Moves With VinVelocity™
Making the right sourcing decisions and knowing the optimal time to sell a vehicle is key to generating revenue. You not only need to understand supply and demand today — but for the future too.
Stop digging through dashboards and spreadsheets to decide what to sell and stock. VinVelocity™ offers powerful predictive analytics to indicate past, present, and future vehicle profit trajectories using market ratings specific to your location. These trend-based analytics tell you what's selling, who's buying, and at what price to help you dominate your competition.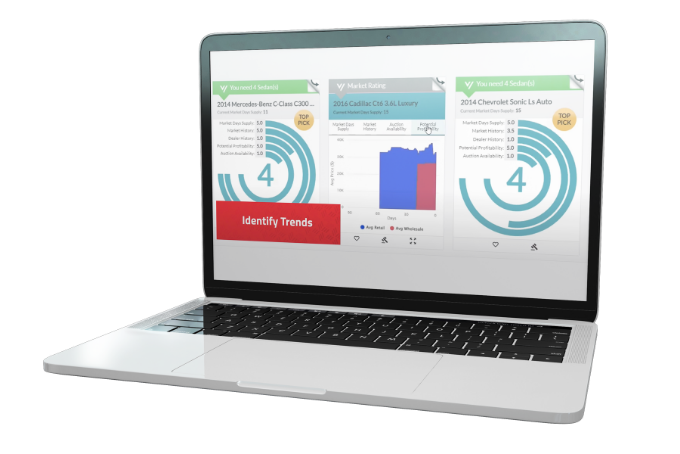 Give a Flip About Your Inventory Investments?
Flippable vehicle profile cards quickly make data-driven decisions and acquire the right inventory for today's market. On one side: an easy-to-digest market rating score with key metrics. On the other: profitability trends at a glance.
Customized for You
View market ratings straight from your current inventory. Then, jump right to auctions with a single click. You can even filter auctions by section availability, highest profitability, and turn.
Capture Trends
Stay ahead of the curve. VinVelocity™ scorecards show not only a snapshot in time, they use past data to identify trends and help you make strong decisions for the future.
Fewer Clicks
Is gathering disparate data giving you a headache? VinVelocity™ is accessible from anywhere in VinMotion® Pro and doesn't get in your way. Plus, it's incredibly easy to use and interpret.
Get Ready, Get Set, Go With VinMotion® Pro
Getting started with VinMotion® Pro is easy. Simply reach out for a demo or quote and our team will take it from there. Sit back, take notes, ask questions and watch your potential shift into high gear.